Refresh in a natural hot springs used by the three Azai sisters (and receive a free gift of water!)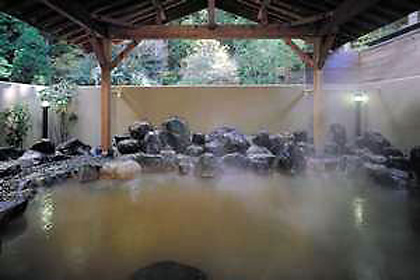 This natural hot springs has quietly bubbled up since ancient times. In Japan's Warring States period (1467-1568 CE), Nagamasa Azai installed himself at Odani Castle, and the springs was located at the foot of the castle. Nearby, you will find Anegawa, the site of a famous battle. Warlords, peerless beauties, and Oichi no Kata visited the springs, and this is the historic site where the three daughters born between Oichi no Kata and Nagamasa Azai first bathed as babies. Like Arima Onsen, the hot springs have a viscous and red-brown color. Their quality is widely recognized, and we have many repeat visitors. In front of the springs is the remains of Odani Castle, a veritable treasure trove of history that is an essential stop for history buffs. It is also the birthplace of Princess Go, the heroine that appeared in the historic drama series, Go: Himetachi no Sengoku. She had the misfortune to be made an orphan by the death of her parents. Princess Go was used by Toyotomi Hideyoshi for matchmaking three political marriages of convenience, but she always took a positive attitude to these events, not seeing them as a cause for dismay. Her positive attitude led her to become the mother of three Tokugawa generals and the grandmother of the Meisho empress. Her strength could be said to come from her hometown of Odani. As you visit the area, think back to the Warring States period and imagine how Princess Go, though faced with unfortunate circumstances in early age, turned this negative start into a form of positive thinking and developed the power to persist. If traveling by train, we operate a shuttle to and from JR Kawake Station, the nearest station. En route to the inn, you will also find the entrance to the Odani mountain trail and the Odani Castle History Museum. We will gladly drop you off at these destinations if desired, so do not hesitate to ask.
Dinner menu: please select one of the following
– Seasonal kaiseki course
– Omi beef sukiyaki course
– Omi beef shabu shabu course
Free shuttles: We can pick you up and drop you off at the nearest train station (JR Kawake) Please indicate if you wish to use the shuttle. Once you know your arrival time, please notify us by telephone on the day of arrival and we will go to pick you up.
Natural water gift: don't forget to rehydrate after sweating it out in the springs. Highly recommended for those seeking to promote a healthy balance.
Breakfast: we serve Japanese-style platters that make use of local ingredients. Note that there is no breakfast buffet.