Take a high-speed boat to Chikubu-shima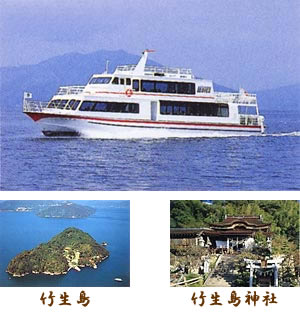 There you will find Chikebu-shima Shrine, ceiling artwork and painted screens by Eitoku Kano, tea ceremony, and Hogon-ji Temple. You can gaze at the beautiful surroundings of Lake Biwa here.
Chikubu-shima
The granite island is 2km around and has an area of 0.14 square meters. Covered in greenery, this island has long been a site of faith in the area.
Chikubu-shima Shrine
This shrine is a national treasure and was dedicated by Totoyomi Hideyoshi.